What's new in Axon 4.3
If you are interested in Axon Framework and Axon Server or if you already use these products in your project, please join our upcoming webinar introducing the new features in release Axon 4.3 and 4.2. In this 45 min release webinar, Allard Buijze will:
Introduce the new features in Axon 4.3 (Axon Framework, Axon Server)
Show some of the key features in a live demonstration
Answer your questions
And give a short overview of what's coming up
For this webinar, you don't need to be an expert in implementing Axon platform, but you should understand concepts of CQRS and event sourcing. If you're new to the concepts behind Axon, we recommend reading: https://axoniq.io/resources/architectural-concepts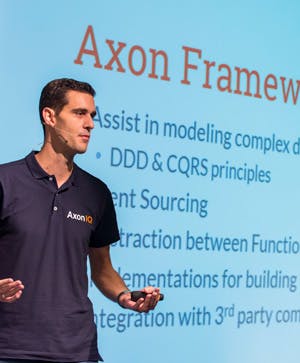 Allard Buijze
CTO and founder
AxonIQ
Allard Buijze is the founder and chief technology officer at AxonIQ, a microservices communication platform for building event-driven, distributed applications, where he helps customers reach appropriate future-proof technical decisions.
A former software architect within the fields of scalability and performance, he has worked on several projects where performance is often a recurring theme. Allard is convinced that a good domain model is the beginning of contributing to the overall performance of an application and developed the Axon Framework out of this conviction.
Read more