SpringOne Platform
SpringOne Platform conference by Pivotal is the premier conference for those who build, deploy, and run cloud-native software. This four-day event brings together leading software companies, enterprises, and cloud experts to collaborate and share knowledge.
Allard Buijze, CTO at AxonIQ presented:
Bootiful CQRS and Event Sourcing with Axon Framework
In this session, we will see how Spring Boot's autoconfiguration and Axon's separation of business logic and infrastructure concerns allow you to set up a CQRS and Event Sourcing application in mere minutes. Then, we will scale is out by simply changing some configuration.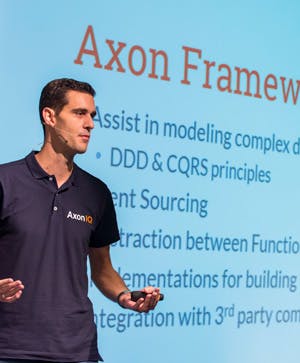 Allard Buijze
CTO and founder,
AxonIQ
Allard Buijze is the founder and chief technology officer at AxonIQ, a microservices communication platform for building event-driven, distributed applications, where he helps customers reach appropriate future-proof technical decisions.
A former software architect within the fields of scalability and performance, he has worked on several projects where performance is often a recurring theme. Allard is convinced that a good domain model is the beginning of contributing to the overall performance of an application and developed the Axon Framework out of this conviction.
Read more
Location
Gaylord National Resort and Convention Center, Washington D.C.