SpringIO 2019
Event-Driven Microservices with Axon and Spring Boot: excitingly boring
presented by Allard Buijze
Microservices, and especially the Event-Driven variants of them are often associated with cool, hard-to-grasp, technologies. Instead of building what really matters to our business, we spend most of our time tweaking and integration different technologies and frameworks. Spring Boot is famous for its autoconfiguration capabilities. Axon is known for its support for CQRS and Event Sourcing. What happens if you unleash the power of both onto your application?
Through live coding, we'll see how it becomes trivial to build and scale an event-driven application.
So trivial, that it almost becomes boring….
See recording at: https://youtu.be/iVaD3mdwvx4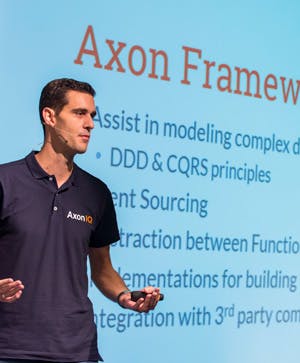 Allard Buijze
CTO and founder,
AxonIQ
Allard Buijze is the founder and chief technology officer at AxonIQ, a microservices communication platform for building event-driven, distributed applications, where he helps customers reach appropriate future-proof technical decisions.
A former software architect within the fields of scalability and performance, he has worked on several projects where performance is often a recurring theme. Allard is convinced that a good domain model is the beginning of contributing to the overall performance of an application and developed the Axon Framework out of this conviction.
Read more