O'Reilly - Software Architecture Conference
Allard Buijze, 4:50pm–5:40pm, Wednesday, February 26, 2020
Microservices, and especially the event-driven variants, are at the very peak of the hype cycle and, according to some, on their way down. Meanwhile, a large number of success stories and failures have been shared about this architectural style. Allard Buijze explains how not to throw away the baby with the bath water and end up reinventing the same concepts again a decade from now.
Allard zooms in on different aspects of microservices. You'll discover the promises made and if microservices delivered, how the technology surrounding microservices evolved and impacted your decisions, and what it means to be event driven. You'll explore different ways in which a system can benefit from events, from events as side effects to events being the root of all state. And Allard looks forward to how you can be pragmatic about microservices and avoid some of the common pitfalls and helps you ensure that you get the promised benefits but without the pain.
See the details here.
Software architecture is at the core of nearly every area of technology—and the breadth of knowledge required to be successful continues to expand. While newer trends need to be leveraged, legacy code and systems must also be accommodated. The O'Reilly Software Architecture Conference gives you the training you need to stay at the forefront of this ever-changing field.
Join hundreds of senior developers, engineers, and software architects in New York to learn new skills and technologies with a focus on microservices, cloud computing, and serverless—as well as emerging trends in AI, machine learning, and data analytics. Whether you're a seasoned architect or aspiring to become one, this year's O'Reilly Software Architecture Conference is designed to help you go next-level.
Register here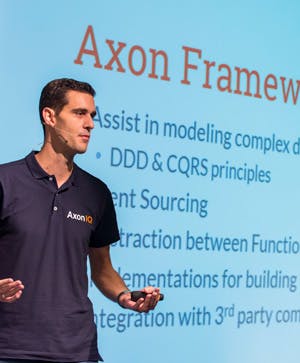 Allard Buijze
CTO and founder,
AxonIQ
Allard Buijze is the founder and chief technology officer at AxonIQ, a microservices communication platform for building event-driven, distributed applications, where he helps customers reach appropriate future-proof technical decisions.
A former software architect within the fields of scalability and performance, he has worked on several projects where performance is often a recurring theme. Allard is convinced that a good domain model is the beginning of contributing to the overall performance of an application and developed the Axon Framework out of this conviction.
Read more
Location
New York Hilton Midtown