Pourquoi est-il si important d'utiliser DDD, CQRS et une architecture orientée Event- Sourcing?
Quand?
Le 4 mars 2021
De 18:30 à 20:00 heures = 12:30 PM- 14:00 PM EST
Agenda
18:30- 18:50 Grégory Boissinot, Architecte.
L'Event Driven microservice au-delà des buzz words? 
Les  Event-Driven Microservices en utilisant CQRS et l'Event-Sourcing 
18:50- 19:00 Questions/ Réponses
Pendant ce Meetup, vous pourrez poser toutes vos questions. Nos interlocuteurs y répondront en direct.
19:00- 19:20 Allard Buijze, CTO et co-fondateur. 
Demo AxonIQ: Exploration du code
Elle est belle la théorie mais, comment ça marche en pratique?
19:20- 19:30 Questions et Réponses à AxonIQ quant à la solution et au cas pratique
19:30- 20:00 Tables rondes virtuelles
Avec un sujet par table ( 7 à 8  participants par table) + 1 modérateur ( Chaque participant peut assister à plusieurs conversations lors de cette session en changeant de table) 
Coût
Gratuit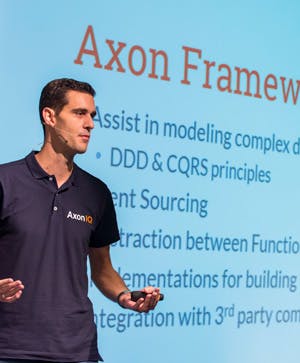 Allard Buijze
CTO and founder
AxonIQ
Allard Buijze is the founder and chief technology officer at AxonIQ, a microservices communication platform for building event-driven, distributed applications, where he helps customers reach appropriate future-proof technical decisions.
A former software architect within the fields of scalability and performance, he has worked on several projects where performance is often a recurring theme. Allard is convinced that a good domain model is the beginning of contributing to the overall performance of an application and developed the Axon Framework out of this conviction.
Read more