Microservices messaging in Axon Server - How does it work?
Axon Server is a messaging solution focused on applications, distinguishing between Commands, Event, and Queries. This distinction makes scaling applications a matter of spinning up new nodes. Each node will connect to Axon Server, publish its capabilities, and Axon Server will adapt routing of messages seamlessly to make optimal use of each available instance.

Listen to this webinar and understand:
The complexity of typical point-to-point and pub-sub approach
How distinguishing between Commands, Event and Queries helps reduce complexity
Axon Server concepts
How AxonServer works and how to implement it
How to get started with Axon Server yourself.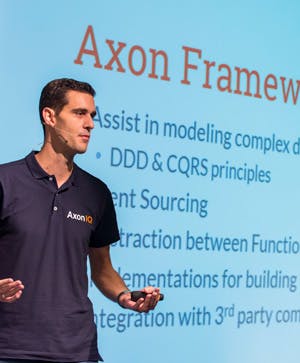 Allard Buijze
CTO and founder
AxonIQ
Allard Buijze is the founder and chief technology officer at AxonIQ, a microservices communication platform for building event-driven, distributed applications, where he helps customers reach appropriate future-proof technical decisions.
A former software architect within the fields of scalability and performance, he has worked on several projects where performance is often a recurring theme. Allard is convinced that a good domain model is the beginning of contributing to the overall performance of an application and developed the Axon Framework out of this conviction.
Read more