Lyon Meetup: DDD, CQRS, et Event Sourcing par-dessus tout!
Le 15 décembre de 19 heures à 21:00 heures
Session animée par Allard Buijze, co-fondateur et CTO d' AxonIQ, en partenariat avec le MUG Lyon.
Les demandes de software ont profondément changé ces 20 dernières années. Et pourtant les styles architecturaux dominants sont toujours basés sur les patterns des années 70. Bien que de nouveaux patterns architecturaux aient émergé, les bénéfices sont souvent mis de côté avec comme excuse d'être "trop complexes" ou "non nécessaires". Comment peut-on prendre avantage de ces bénéfices sans être distrait par les détails techniques qui menacent la simplicité de la solution? Dans la présentation d'Allard qui reviendra sur l'état de l'art en la matière, nous nous pencherons sur l'Event Sourcing.
Nous nous intéresserons également à la manière dont DDD, CQRS, et Event Sourcing sont combinés pour former un style architectural qui nous permet de scinder le comportement des détails techniques.
Nous ne nous limiterons pas aux promesses faites par ces principes mais, nous nous attacherons à ce que nous sommes capables de fournir en termes de résultat, et ce de façon pragmatique.
Agenda:
Introduction
Présentation d'Allard Buijze
Q&A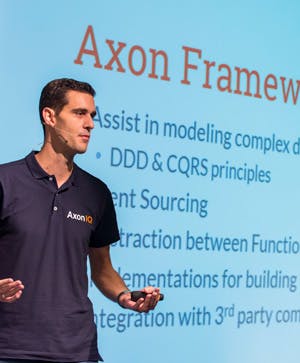 Allard Buijze
CTO and founder
AxonIQ
Allard Buijze is the founder and chief technology officer at AxonIQ, a microservices communication platform for building event-driven, distributed applications, where he helps customers reach appropriate future-proof technical decisions.
A former software architect within the fields of scalability and performance, he has worked on several projects where performance is often a recurring theme. Allard is convinced that a good domain model is the beginning of contributing to the overall performance of an application and developed the Axon Framework out of this conviction.
Read more