JPoint 2019
Allard Buijze is presenting:
Performance aspects of Axon-based CQRS/ES systems
In this session, we'll zoom into a specific aspect of Axon-based CQRS/ES systems: performance. While CQRS/ES is often touted as a great performance booster (through query simplification and eventual consistency), in reality, there are some challenges. Large event stores, or individual aggregates with large numbers of events, may show horrible performance. Also, replaying the event stream into a new read model sounds easy in principle, but becomes challenging when talking about billions of past events.
This session will begin with a fast-paced review of the core CQRS/ES principles and their implementation in Axon. After that, we'll focus on the various performance challenges and approaches to solving them.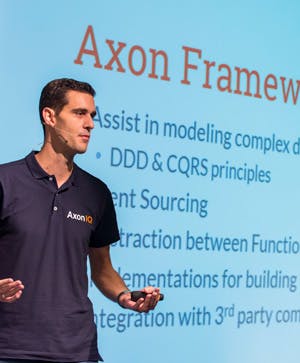 Allard Buijze
CTO and founder,
AxonIQ
Allard Buijze is the founder and chief technology officer at AxonIQ, a microservices communication platform for building event-driven, distributed applications, where he helps customers reach appropriate future-proof technical decisions.
A former software architect within the fields of scalability and performance, he has worked on several projects where performance is often a recurring theme. Allard is convinced that a good domain model is the beginning of contributing to the overall performance of an application and developed the Axon Framework out of this conviction.
Read more
Location
WTC Congress Center, Moscow