Intro to Event-Driven Microservices using DDD, CQRS & Event sourcing
Time: 18:00 PM - 19:00 PM CET (July 14th, 2021) = from 12 PM to 1 PM EDT
Costs: Free
In this 1 hour hands-on webinar one of our developers will provide a quick introduction to the basics.
The goal of this webinar is to teach you how to develop an application using Axon. After a general overview of the architectural principles, we will deep dive into the basics of the Axon Framework too. You'll be provided with some practical examples during the presentation. During the hands-on session, you can take your first steps on actually implementing a small application using Axon Framework.
In doing so, the following topics will be discussed in short:
Domain-Driven Design (DDD)
Command-Query Responsibility Separation (CQRS)
Event Sourcing
Axon Framework Fundamentals

For this webinar you'll need:
A good understanding of Java and Spring
A computer with the IDE of your choice
Register above to attend and receive a recording after the event.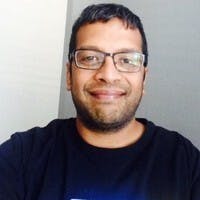 Vijay Nair
Developer Advocate
Practical DDD
Vijay is a DDD/CQRS/Event Sourcing enthusiast and frequently writes and presents about them. He is the author of the book "Practical Domain-Driven Design with Enterprise Java" and his website is www.practicalddd.com
Read more