Implementing Event-Driven Systems using DDD, CQRS, and Event Sourcing with Axon - Training in France
Time: 9:00 AM - 5:30 PM CET(Mar 23rd, 2022 and Mar 24th, 2022)
In this two-day, hands-on training course you will learn how to design and implement systems based on the concepts of Domain-Driven Design (DDD), Command-Query Responsibility Separation (CQRS), and Event Sourcing using the Axon Framework and Axon Server.
The first training day covers the fundamentals of these concepts and focuses on the design and implementation of the functional building blocks of an application. We will see how to combine DDD and CQRS to define models of our domain and implement these with the help of Axon Framework. We will implement the command model, event handlers, and projections, as well as Sagas.
On the second day of training, we will focus on the non-functional aspects of a system. We will see how the clear separation of the functionality from the technical aspects and the concept of location transparency allow us to tune various aspects without impacting the business logic. The training also covers the typical production aspects such as scalability strategies, application evolution, snapshotting, and monitoring.
Objectives
Understand the big picture - the concepts and modeling with DDD and CQRS
Understand the concepts of Event Sourcing and Event Streaming, how they differ and what value each of them brings
Learning how to set up projects with Axon for developing complex, scalable and future-proof applications.
Experience how to evolve applications built on Axon to get the most out of available data
Learn how the concept of Location Transparency allows flexible scaling and tuning of individual application components.
Benefits
Get the development team facing in the same direction
Improve alignment between business and development teams
Avoid common pitfalls in project setup, save time and boost productivity
Expert's answers to specific/advanced questions
Audience
The Axon training courses and workshops are designed for Software Architects, Software Developers, Technical Team Leads, and Enterprise Architects. Both people with some prior experience developing with Axon, as well as people that are completely new to the concepts of DDD, CQRS, and Event Sourcing will find this training useful.
Prerequisites
A good understanding of the Java language is required.
Enterprise application development experience is recommended.
Developers are expected to bring their own laptops with the IDE of their choice.
Delivery
Instructor-led classes
Best practices and know-how embedded in hands-on labs
Interactive sessions with ample time for Q&A
Available in English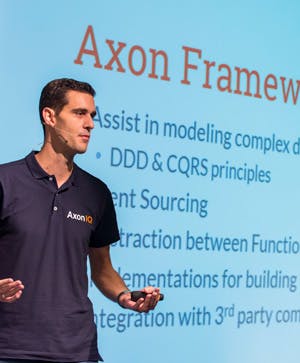 Allard Buijze
CTO and founder
AxonIQ
Allard Buijze is the founder and chief technology officer at AxonIQ, a microservices communication platform for building event-driven, distributed applications, where he helps customers reach appropriate future-proof technical decisions.
A former software architect within the fields of scalability and performance, he has worked on several projects where performance is often a recurring theme. Allard is convinced that a good domain model is the beginning of contributing to the overall performance of an application and developed the Axon Framework out of this conviction.
Read more