GOTO Berlin
AxonIQ is invited to speak:
Allard Buijze: Event-Driven Microservices - not (just) about events!
"Events" have recently been given a lot of attention as a very powerful means of communication between components. They pop up almost everywhere in different shapes and forms, and for different reasons. Unfortunately, they often completely miss their purpose, and instead of decoupling components, they subtly introduce an implicit coupling in logic.
The distributed big ball of mud is born.
Throwing more technologies at it won't solve the problem, all it will do is simply introduce a new layer of mud on top of the old.
In this session, I will take a few steps back and look at three reasons why components need to communicate. I will demonstrate that by considering the reason of the communication, you can select suitable routing patterns, choose an appropriate protocol and technology to transport each type, and end up with proper decoupling of components. This decoupling means that it doesn't matter anymore whether the messages are handled in the same process as the sender, on different hosts or even in different data centers altogether. This so-called location transparency then becomes a big enabler for building evolutionary "message-driven" microservices.
Friday Nov 2 @ 12:00 –12:50
Event-Driven Microservices - not (just) about events!
Frans van Buul: Building microservices systems with the Axon platform
Axon Framework is a well-established open source framework for writing CQRS, event-sourcing and DDD based applications in Java. It has been around for 8 years and is used in business applications around the globe, with the financial services industry proving to be a sweet spot.
On 18 October, Axon 4 has been released. Starting from this release, Axon is a platform, consisting of the open source Axon Framework and the open source Axon Server. The platform offers a unique, scalable way to build microservices. It allows developers to focus on functionality, with things like correct routing of messages being handles by the platform.
Wednesday Oct 31 @ 13:50 –14:40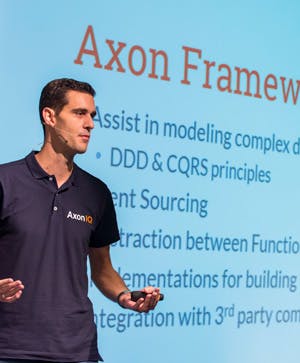 Allard Buijze
CTO and founder,
AxonIQ
Allard Buijze is the founder and chief technology officer at AxonIQ, a microservices communication platform for building event-driven, distributed applications, where he helps customers reach appropriate future-proof technical decisions.
A former software architect within the fields of scalability and performance, he has worked on several projects where performance is often a recurring theme. Allard is convinced that a good domain model is the beginning of contributing to the overall performance of an application and developed the Axon Framework out of this conviction.
Read more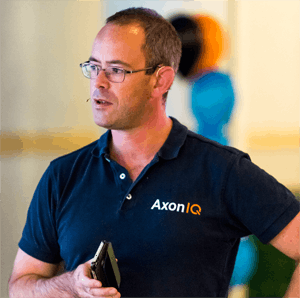 Frans van Buul
Evangelist
Frans is an evangelist at AxonIQ. He works with existing and prospective Axon Framework users, specifically looking at how AxonIQ's products and services can help them be successful.
Also, he tells the world about Axon by speaking at conferences, running webinars, writing blogs, etc. Before joining AxonIQ, Frans was a presales architect representing Fortify, the world's leading application security testing portfolio, having worked as both a Java architect and security consultant before that.
Read more
Location
bcc Berlin Congress Center