Event Storage in Axon Server - How does it work?
We regularly get asked why there was a need for another type of database in order to support event sourcing. Isn't one of the existing classes of SQL or NoSQL databases suitable enough? That's a question we have also asked ourselves and came to the conclusion that the use case of Event Sourcing does require a special class of database.
In this webinar, Allard Buijze will explain what is so different about the use cases of Event Sourcing. He will show Axon Server's Event Storage is designed to deal with those use cases in the most efficient way, and compare these to alternative approaches using existing database technology. He will talk about:
the database requirements for event sourcing
why relational databases and some common NoSQL options (such as Mongo, Kafka, Cassandra) fail to meet those requirements
how event storage works in Axon Server and what are the benefits
how easy it is to get started with Axon Server yourself.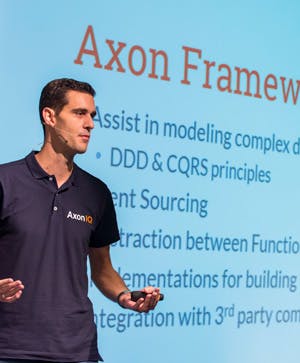 Allard Buijze
CTO and founder
AxonIQ
Allard Buijze is the founder and chief technology officer at AxonIQ, a microservices communication platform for building event-driven, distributed applications, where he helps customers reach appropriate future-proof technical decisions.
A former software architect within the fields of scalability and performance, he has worked on several projects where performance is often a recurring theme. Allard is convinced that a good domain model is the beginning of contributing to the overall performance of an application and developed the Axon Framework out of this conviction.
Read more