DevDays Europe 2019
Pragmatic Microservices with DDD, CQRS and Event Sourcing Using Axon Framework
presentation by Allard Buijze
Events are becoming increasingly important in modern architectures. Although CQRS and Event Sourcing are increasingly being adopted, the complexity of implementing it is often highly over-estimated.
In this session, we will first briefly cover what CQRS and Event Sourcing are, and how it addresses some common requirements that modern applications have.
Next, we will open up the IDE and see how the open source Axon Framework can help you get up and running with Event Sourcing in mere minutes.
Once we have the application running, we will scale the application out, where Axon will ensure optimal routing of messages between components, regardless of how they have been deployed.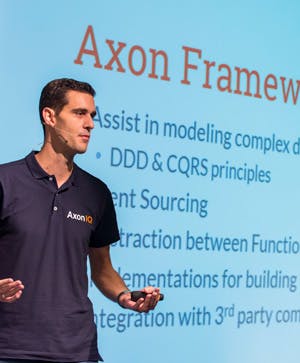 Allard Buijze
CTO and founder,
AxonIQ
Allard Buijze is the founder and chief technology officer at AxonIQ, a microservices communication platform for building event-driven, distributed applications, where he helps customers reach appropriate future-proof technical decisions.
A former software architect within the fields of scalability and performance, he has worked on several projects where performance is often a recurring theme. Allard is convinced that a good domain model is the beginning of contributing to the overall performance of an application and developed the Axon Framework out of this conviction.
Read more
Location
Vilnius, Lithuania