Der Business Value von Event-Driven Software Architektur
Date & Time: 25th January 2022 at 5 PM CET
Die Event-Driven Architektur und alle Möglichkeiten die sich aus ihr ergeben , werden oft nur aus technischer Sicht diskutiert.
Über den tatsächlichen Nutzen für das Unternehmen wird jedoch nur sehr wenig gesprochen.
- Was bedeutet es für Ihr Unternehmen, event-driven zu sein?
- Welche Potentiale werden freigesetzt?
- Wie können Sie es bewerkstelligen, diese Potentiale auch komplett auszuschöpfen und für den Unternehmenserfolg einzusetzen?

In diesem Webinar erklären Ralf Pelz, Regional Director DACH  und Allard Buijze, was es für ein Unternehmen bedeutet, event-driven zu sein, und wie dieser andere Software Ansatz in einer Welt, in der die Komplexität der Systeme ständig zunimmt, einen Mehrwert darstellen kann.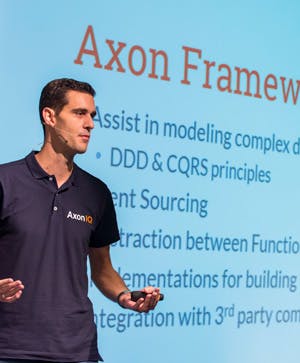 Allard Buijze
CTO and founder
AxonIQ
Allard Buijze is the founder and chief technology officer at AxonIQ, a microservices communication platform for building event-driven, distributed applications, where he helps customers reach appropriate future-proof technical decisions.
A former software architect within the fields of scalability and performance, he has worked on several projects where performance is often a recurring theme. Allard is convinced that a good domain model is the beginning of contributing to the overall performance of an application and developed the Axon Framework out of this conviction.
Read more