CQRS and Event Sourcing without the pixie dust
CQRS and especially Event Sourcing are often surrounded by an air of mystery. While for some, the associated fear, uncertainty, and doubt prevent them from venturing further. For others, the endless promises make it an irresistible source of magic pixie dust. The reality, however, lies somewhere in between.
In this session, Allard will take a pragmatic approach to CQRS and Event Sourcing. We'll briefly recap what they are and how they can be used to pragmatically implement a Microservices architecture. But also if you're just looking for building a structured monolith, these architectural patterns are your friends. In fact, you can dynamically switch between monolith and microservices.
Finally, we'll put the code where the talk is. Allard will show how promises are made in reality using Axon Framework and Axon Server.
Host/partner: Microservices Meetup Hamburg (https://www.meetup.com/de-DE/Microservices-Meetup-Hamburg)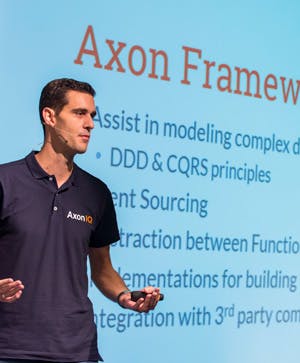 Allard Buijze
CTO and founder
AxonIQ
Allard Buijze is the founder and chief technology officer at AxonIQ, a microservices communication platform for building event-driven, distributed applications, where he helps customers reach appropriate future-proof technical decisions.
A former software architect within the fields of scalability and performance, he has worked on several projects where performance is often a recurring theme. Allard is convinced that a good domain model is the beginning of contributing to the overall performance of an application and developed the Axon Framework out of this conviction.
Read more