Building Microservices with Axon
During the first day, we will build a "structured monolith" consisting of components with well-defined boundaries. In some of these components, we will pply CQRS and Event Sourcing. In others we take a more traditional approach. During the second day, we will scale the application out, by deploying some components separately. We will look at Event Design, ensuring compatibility across deployments and versions. We will also cover monitoring and message tracing and lastly, build new components that base their state on the historical events that our application has captured.
Over the course of two days, we will cover:
Designing aggregates, including complex aggregate structure
Building Sagas
CQRS and Event Sourcing
Event Handlers and (Eventual) Consistency
Scaling out - distributed components
Designing Events for distributed environments
Monitoring and message tracing
Replaying Events
Prerequisites
Basic level of experience in applying Domain-Driven Design
Good understanding of the Java language
Developers are expected to bring their own laptop with the IDE of their choice.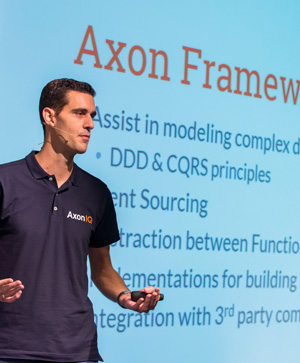 Allard Buijze
CTO and founder
Allard Buijze is the founder and chief technology officer at AxonIQ, a microservices communication platform for building event-driven, distributed applications, where he helps customers reach appropriate future-proof technical decisions.
A former software architect within the fields of scalability and performance, he has worked on several projects where performance is often a recurring theme. Allard is convinced that a good domain model is the beginning of contributing to the overall performance of an application and developed the Axon Framework out of this conviction.
Read more
Location
Hotel Bloom, Rue Royale, Koningsstraat 250, 1210 Brussel, BE
Sign up for our newsletter
monthly updates about new product releases and invitations to AxonIQ events