Microservices with Axon platform - live coding webinar
You'll see how easy it is to build an application with Axon Framework and split it into microservices when the time is right.

We'll begin by building a small, Axon Framework based monolithic Java application from scratch, running it on a local machine. Then, we'll take it apart into 3 microservices, and deploy several copies of each of these services on a Kubernetes cluster. The entire process will be completed in the 45 minutes of thiswebinar!
To get the most out of this webinar, it's useful to have a basic understanding of CQRS and Event Sourcing as we won't cover that theory before going into coding.

Technologies used:
Axon Framework 3.2, AxonHub, AxonDB, Spring, Spring Boot, Kubernetes, Google Cloud Platform, Lombok, Vaadin, JPA.
Register at: https://bit.ly/2ImTC4i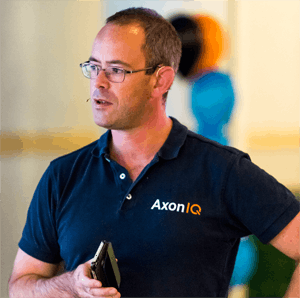 Frans van Buul
Evangelist
Frans is an evangelist at AxonIQ. He works with existing and prospective Axon Framework users, specifically looking at how AxonIQ's products and services can help them be successful.
Also, he tells the world about Axon by speaking at conferences, running webinars, writing blogs, etc. Before joining AxonIQ, Frans was a presales architect representing Fortify, the world's leading application security testing portfolio, having worked as both a Java architect and security consultant before that.
Read more