London Java Community Meetup
Events are becoming increasingly important in modern architectures. Although CQRS and Event Sourcing are increasingly being adopted, the complexity of implementing it is often highly over-estimated.
In this session, we will first briefly cover the background of CQRS and Event Sourcing, and how it addresses some common requirements that modern applications have.
We will open up the IDE and look at the anatomy of an Axon Framework based monolith application. Next, we're going to evolve that monolith into microservices, extracting components into separate services, without changing any of the business logic. We'll also see how we can easily connect Axon's Event Bus to RabbitMQ using Spring AMQP.
At the end of this session, you'll have a clear view on what CQRS and Event Sourcing can do for you, and the role Axon Framework plays in making it easy to implement.
A big thank you to OpenCredo for providing tonight's venue.
This event is organised by RecWorks on behalf of the London Java Community.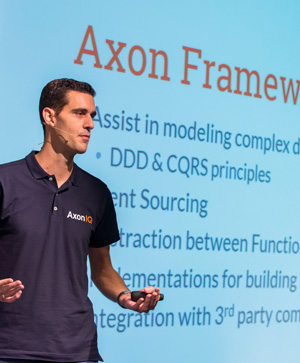 Allard Buijze
CTO and founder,
AxonIQ
Allard Buijze is the founder and chief technology officer at AxonIQ, a microservices communication platform for building event-driven, distributed applications, where he helps customers reach appropriate future-proof technical decisions.
A former software architect within the fields of scalability and performance, he has worked on several projects where performance is often a recurring theme. Allard is convinced that a good domain model is the beginning of contributing to the overall performance of an application and developed the Axon Framework out of this conviction.
Read more
Subscribe
and find out useful news on Axon releases, invitations to AxonIQ events and other news