... think software
A pragmatic approach to event-driven microservices 
Allard Buijze outlines an evolutionary approach to microservices, which allows teams to focus on functionality first while keeping the ability to scale out and distribute components when necessary. Allard covers patterns based on domain-driven design (DDD) and command and query responsibility segregation (CQRS) that help ensure the correct decoupling stays in place during an application's lifecycle and explores the value of using events in such an architecture, particularly when used in combination with other types of messages.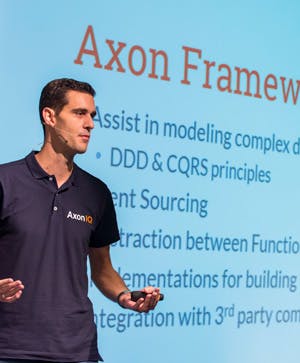 Allard Buijze
CTO and founder,
AxonIQ
Allard Buijze is the founder and chief technology officer at AxonIQ, a microservices communication platform for building event-driven, distributed applications, where he helps customers reach appropriate future-proof technical decisions.
A former software architect within the fields of scalability and performance, he has worked on several projects where performance is often a recurring theme. Allard is convinced that a good domain model is the beginning of contributing to the overall performance of an application and developed the Axon Framework out of this conviction.
Read more