The concepts of DDD, Event Sourcing and CQRS
This training will empower you with the right background knowledge required to design Domain Models suitable for use in a CQRS-based architecture. The training will cover the concepts of Command and Query Responsibility Segregation (CQRS), Domain Driven Design (DDD) and Event Sourcing.
These patterns have become very important providing application architectures for high performing, scalable applications. Audit requirements and the use of data analytics are also important reasons for choosing these patterns.
What the attendee will learn:
The big picture and concept of Event Sourcing in distributed systems
The modelling principles of Domain Driven Design
About the CQRS concepts and rationale
Program outline:
DDD and CQRS concepts
Big Picture Event Storming
Domain Modelling
Designing systems for concurrency
Event Sourcing
Events in Distributed Systems
Target audience
This training is for both technical and non-technical professionals
Audience requirements
There are no prerequisites for this training.
If you have any question about this training, contact us.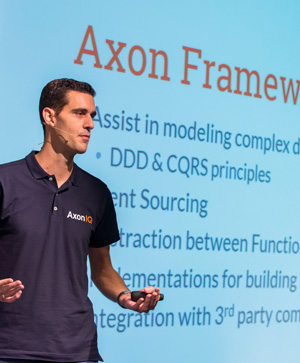 Allard Buijze
CTO and founder
Allard Buijze is the founder and chief technology officer at AxonIQ, a microservices communication platform for building event-driven, distributed applications, where he helps customers reach appropriate future-proof technical decisions.
A former software architect within the fields of scalability and performance, he has worked on several projects where performance is often a recurring theme. Allard is convinced that a good domain model is the beginning of contributing to the overall performance of an application and developed the Axon Framework out of this conviction.
Read more
Location
Vliegend Hertlaan 43, 3526 KT Utrecht
Sign up for our newsletter
monthly updates about new product releases and invitations to AxonIQ events