AxonHub Beta
In this webinar we will introduce AxonHub, a message routing platform delivering the intelligence to route events and other messages correctly and efficiently, in complex microservices landscapes.
Listen to this webinar and understand:
Complexity of the current solutions
AxonHub concepts
How AxonHub works and how to implement it
How to get started with AxonHub yourself.
~WEBINARRECORDING
https://youtu.be/2FjecW_Mm6I

~WEBINARSLIDES
https://bit.ly/2GTiTmG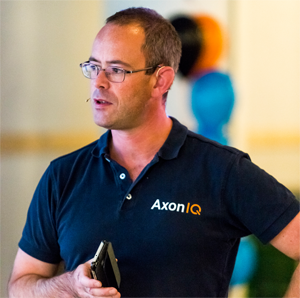 Frans van Buul
Evangelist
Frans is an evangelist at AxonIQ. He works with existing and prospective Axon Framework users, specifically looking at how AxonIQ's products and services can help them be successful.
Also, he tells the world about Axon by speaking at conferences, running webinars, writing blogs, etc. Before joining AxonIQ, Frans was a presales architect representing Fortify, the world's leading application security testing portfolio, having worked as both a Java architect and security consultant before that.
Read more
Subscribe
and find out useful news on Axon releases, invitations to AxonIQ events and other news